ABQ Backyard Refuge Program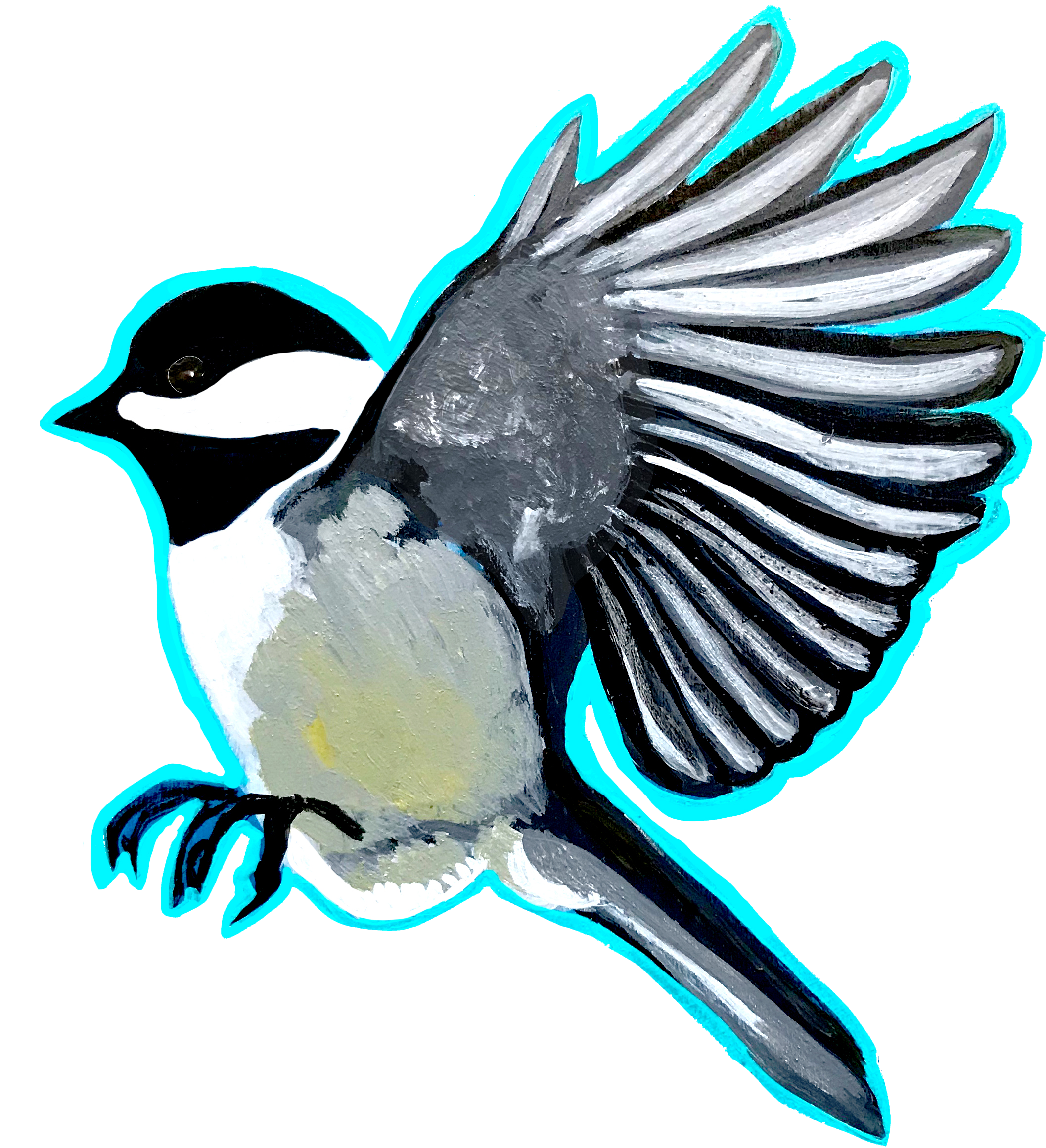 We share our backyards with hundreds, even thousands of different plants and animals, but as cities grow, places for wildlife become fewer and farther between.
All species are in constant need of suitable habitat in which to dwell and give the next generation a chance to thrive. With wildlife gardening, we can enhance our own outdoor spaces while providing resources for our wild neighbors to make their homes.
Even in urban areas, we can make changes that allow other species to flourish with us. Wildlife gardening provides a means of cooperating with our wild neighbors by being aware of their needs and deliberately creating spaces that we can share with our wild neighbors.
From a large, one acre lot that can host numerous different trees, shrubs and flowers, to a deck or balcony large enough for just a small container garden, everyone can contribute by making an effort to garden for wildlife and landscape for conservation.
As of September 16, we've certified

~108 acres

with

335

individual and business participants!
Help us reach our initial goal of equaling Valle de Oro National Wildlife Refuge's 570 acres!


Every bit of habitat counts!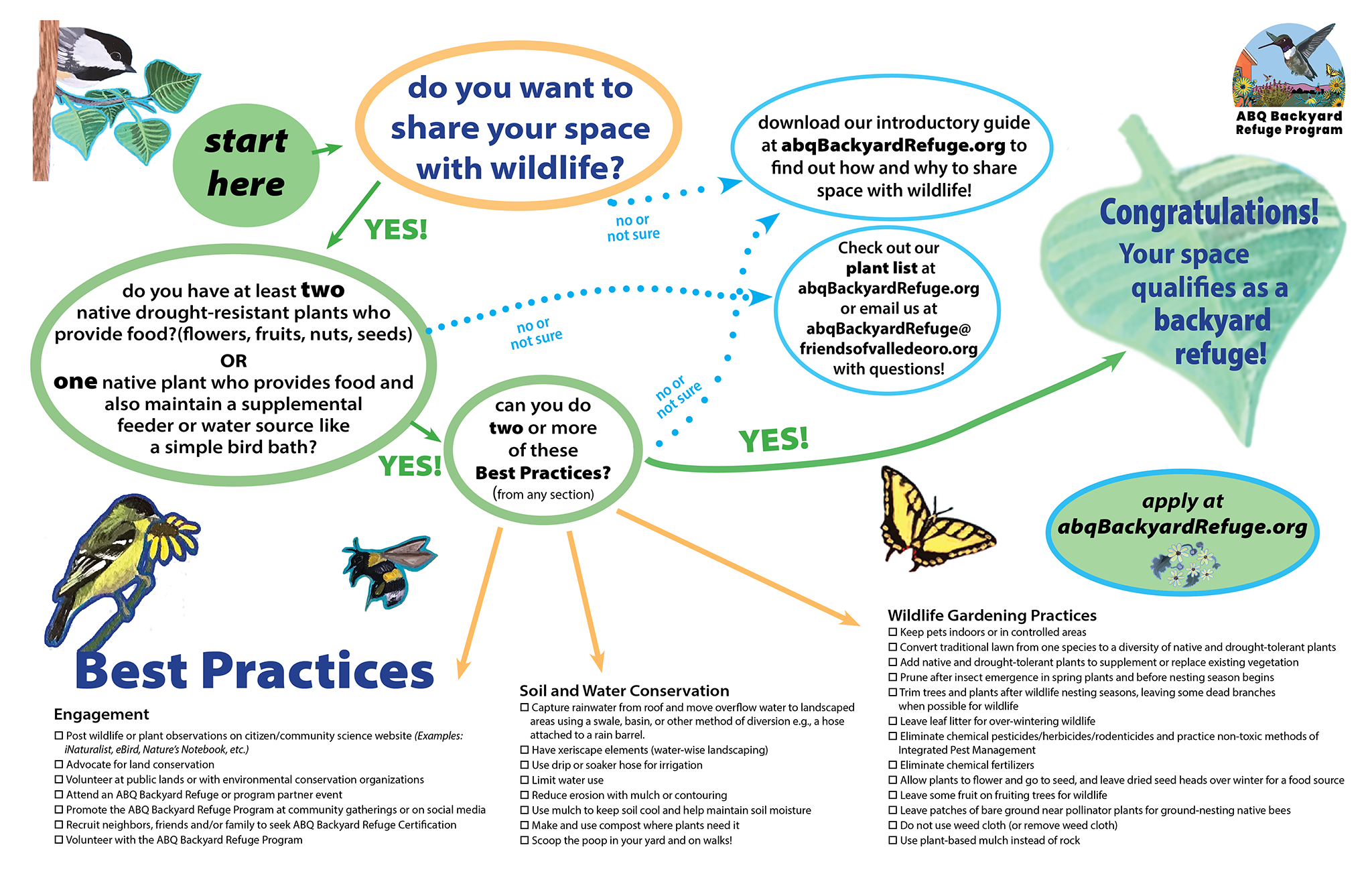 Check out our Educational Materials and Apply for Certification!
Any space can be certified, including a front yard, patio, balcony, community space, and of course, a backyard.

---
The buttons on the left lead to all the information you need to certify your space as an ABQ Backyard Refuge and show that you are contributing to a mosaic of habitat across our city.
To start, look at the Habitat Questions as either a Word doc or PDF. If you already have native plants in your space, you may already qualify for the first level of certification: Contributing Habitat!
You can use the Certification Workbook as a guide to prepare your answers.

To learn more about sharing your space with wildlife, download our Introductory Guide, and regionally-specific Plant List. You can also access the searchable iNaturalist plant list, which includes pictures and geographic distribution of each plant species.
Join our network to be the first to learn about upcoming trainings, events, & opportunities!
Why Should I Certify my Space?
---

---
The Certification Process
When you certify your space as an ABQ Backyard Refuge you are helping to spread the word and encourage others in your community to build wildlife habitat in the urban environment. It also helps explain to your neighbors why your yard may look a bit "wild" compared to a manicured lawn, your commitment to making these changes, and why you are leaving leaf litter, allowing dandelions to thrive, and maintaining seed heads longer into the winter season, for example.
How Will Your Neighbors Know You are Making Changes to Support Wildlife?
When you get certified, you will receive a yard sign and stickers, to add to your sign, which indicate both your level of certification and the year(s) your yard, patio or balcony were certified. Each year you certify your space, you will get a new commemorative sticker to add to your sign that features a different plant or wildlife species native to the Albuquerque Area!
Consider certifying right away, even when you are just getting started, to access special opportunities!
Even if you feel you haven't done too much at this point to support wildlife in your space, we encourage you to download the habitat questions and certification workbook and explore your current habitat. Under the ABQ Backyard Refuge Program, you can certify your space as either Contributing Habitat, Connector Habitat, or Core Habitat.
Getting started at the "Contributing" level is very easy and low cost. You can certify your space now and identify ways you can add to your space to achieve higher levels of certification in future years.
Once you are certified, at any habitat level, you will get your yard sign, qualify for a free rain barrel, and be the first to know about opportunities for giveaways, trainings and more! We encourage you to continue growing your space, but by simply adding a few native plants, engaging in some best practices or citizen science projects, and spreading the word about the program, you can get certified and access these opportunities to support the future growth of your space into thriving habitat for your family and wildlife!
---
A Tale of Two Neighborhoods
The International District is a culturally vibrant area in Southeast Albuquerque. Unfortunately, it is also considered an urban heat island and food desert. In light of these challenges, residents are trying to reverse the trend with green space and pocket gardens.
Valle de Oro is an urban National Wildlife Refuge currently rewilding a former dairy farm located in Albuquerque's Mountain View community in the South Valley. Surrounded by industrial sites, the refuge is bringing back the wildlife habitats that previously flourished there.
This is a story of how the International District and Valle de Oro National Wildlife Refuge (NWR) collaborated to create common ground for the people.
Building backyard refuges is creating space for conversation and connecting communities, both human and wild.
---
---
Each season, the ABQ Backyard Refuge Program sends out a newsletter of seasonal tips to support your efforts to build an ABQ Backyard Refuge! Sign-up for our contact list to get them straight to your email!
---
The ABQ Backyard Refuge Program is managed by the Friends of Valle de Oro National Wildlife Refuge with the support of organizations throughout the Middle Rio Grande who value the wildlife and people in our community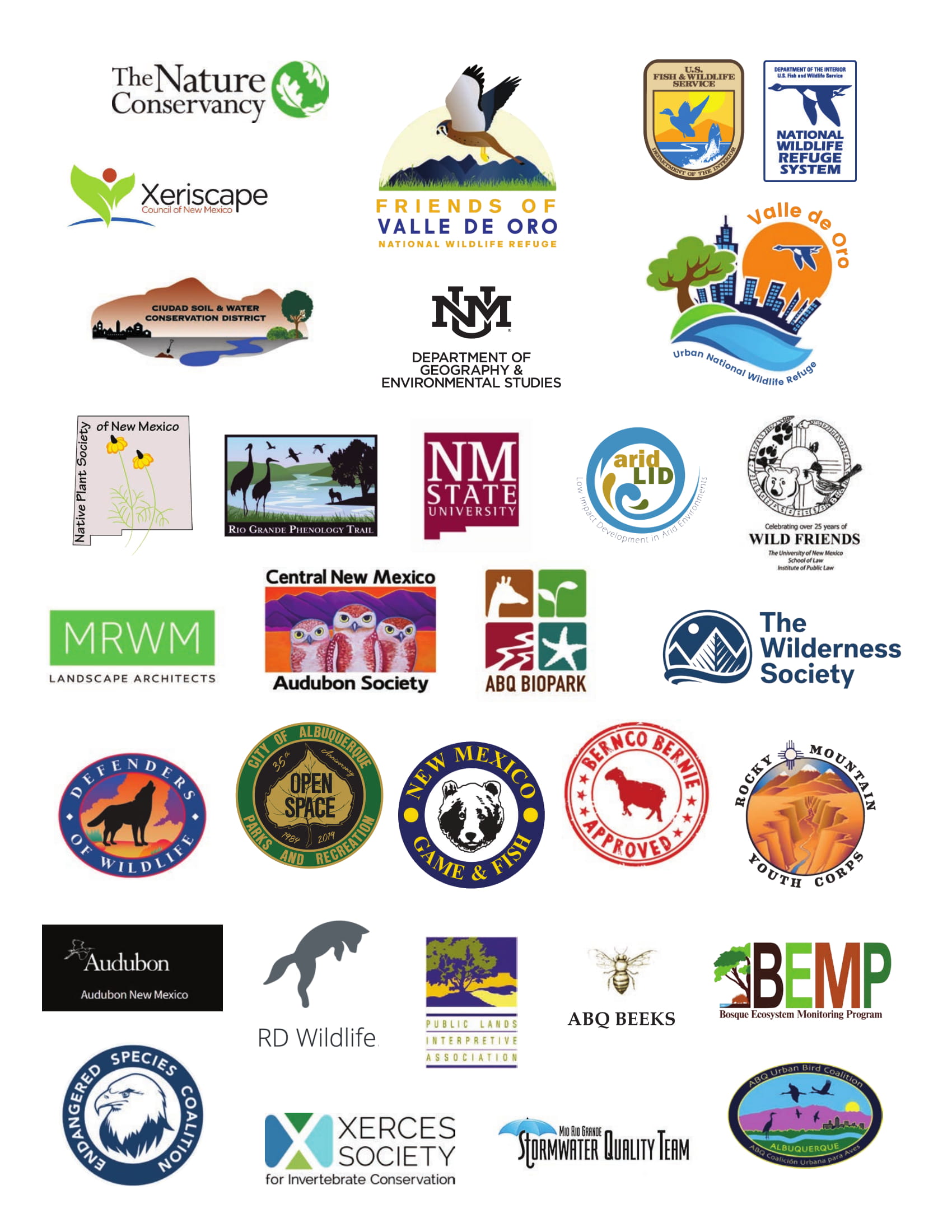 Address:
Friends of Valle de Oro National Wildlife Refuge
7851 2nd St. SW
Albuquerque, NM 87105

Phone:
505-750-3383

Email:
abqbackyardrefuge@friendsofvalledeoro.org
info@friendsofvalledeoro.org

Visit:
Valle de Oro National Wildlife Refuge is open every day, one hour before sunrise to one hour after sunset. The new Visitor Center is open Tuesday - Saturday from 9am to 4pm.
Due to construction and restoration activites at Valle de Oro, please visit the Valle de Oro website for the most up-to-date information on any closures.