Check out these announcements about unique opportunities to participate in the transformation of YOUR Urban Wildlife Refuge.
#GivingTuesday is December 3rd, 2019
A Day to Give Back -- #GivingTuesday
#GivingTuesday is Tuesday December 3rd this year -- a global day of giving back to organizations you're passionate about. We hope you will consider supporting the Friends of Valle de Oro National Wildlife Refuge among all of your favorite nonprofits and passions you choose to support during this important day of giving.
We are excited to announce that donations made to the Friends of Valle de Oro NWR on December 3rd, up to $1,500, will be matched by the La Meristema Fund at the Albuquerque Community Foundation! Please consider helping us reach at least that amount knowing your donation will be doubled!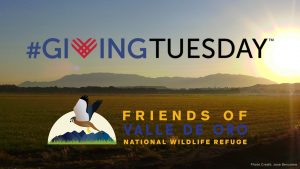 The Friends of Valle de Oro NWR envision a future where wildlife and people have easy access to public lands and native habitat to enjoy and benefit from. In the meantime, we are working to restore native habitat and provide educational programs and recreation opportunities at Valle de Oro National Wildlife Refuge and in our backyards throughout our community. Much like La Meristema is Spanish for the growing tip of a plant, Valle de Oro is the growing tip of a thriving community where, together with our supporters, we are co-creating a community asset for wildlife and people to coexist. Thank you to all who have supported our work and the Refuge over the years!
During this season of giving, the Friends of Valle de Oro of NWR are thankful for a groundbreaking year - literally! In October, the Friends were honored to join the Refuge for a groundbreaking ceremony for our highly anticipated Visitor Center! The dedicated support of donors and volunteers like you made this historic day possible. Also this year, the Friends launched the ABQ Backyard Refuge Program, a collaborative effort to better support our community in making changes in their own backyards, patios, balconies or community spaces to benefit wildlife and build a network of refuges for wildlife and people throughout the Albuquerque area. As construction begins at the Refuge, the Friends have more work than ever to support the programs, projects, education and outreach our community expects.
We invite you to continue your tradition of support of the Friends, the Refuge and the community of wildlife and people we serve by making a #GivingTuesday donation on December 3rd through our Facebook Fundraiser or by visiting the Friends Donation Page.
If you have any questions, please do not hesitate to reach out by calling or emailing Aryn LaBrake at 505-750-3383 or aryn@friendsofvalledeoro.org.
Thank you for your support of the exciting work happening at Valle de Oro National Wildlife Refuge to restore native habitat and foster future conservation stewards in Albuquerque, NM and beyond!
The Friends are Hiring an Intern
The position is open until it is filled and will start on October 7th, 2019
During this year long position, our new SCA intern will assist with education and outreach efforts at Valle de Oro National Wildlife Refuge and with the Friends of Valle de Oro National Wildlife Refuge. Duties at Valle de Oro NWR will consist of assisting refuge staff with its high school intern mentorship program, field trip and classroom visits with local schools (k-12), assisting visitors at the front desk, and with weekend outreach and service events, on and off site of the refuge. With the Friends of Valle de Oro NWR the SCA intern will support the organizations new ABQ Backyard Refuge Program, its effort to help Albuquerque residents develop mini wildlife refuges in their backyards to connect to our network of public lands.  Additionally, the SCA Intern will help the Friends of Valle de Oro NWR with outreach and volunteer efforts, including its annual events, volunteer service days, and the development of its online and brick-and-mortar Nature Store to promote the Refuge and the Friends. The intern will also work to facilitate collaboration between the two organizations and help out with other tasks and projects as needed.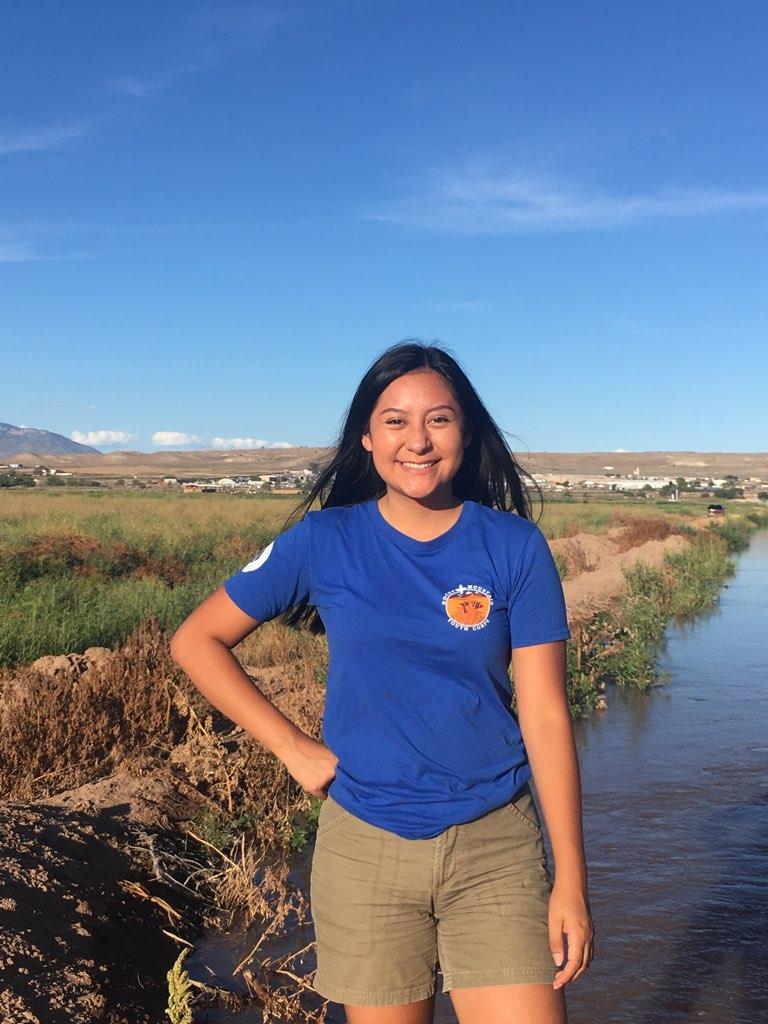 Announcing our Opening Doors to Nature Education Scholarship Winner!

We are so excited to announce, and introduce you to this year's Opening Doors to Nature Education Scholarship Recipient. Olivia Martinez began her conservation career early in her life as an elementary school student participating in BEMP (Bosque Ecosystem Monitoring Program) and then joining Rocky Mountain Youth Corps at the age of 16, first in tree and trail crews and then as a Youth Ambassador for Valle de Oro NWR in the 2018-2019 season. Olivia knew from a very early age that conservation was something she wanted to do for the rest of life, so she shaped her career goals around her passion for the environment. She is a freshman at Fort Lewis College in Durango, CO studying Environmental Science. As Olivia puts it, "I have chosen to study environmental science because of the variety the field has to offer. I could do lab research, field studies or data oriented work, allowing me to forever be amused. I also hope to use my knowledge of the Southwest to better Native American and Hispanic communities. As Native people we have a very strong connection to the land that surrounds us... I hope to be a catalyst for Native, Mestizo and Hispanic youth so they can understand the lands that surround them and work towards a healthier future for our indigenous lands."
Please join us in congratulating Olivia! For your change to meet Olivia, be a part of our official scholarship award ceremony, and to raise funds for next year's Opening Doors to Nature Education Scholarship, consider joining us at the Friends of Valle de Oro NWR's Golden Gala: Restoring Nature in our Backyards on Saturday, October 26th, where together we can make a difference in the lives of our future conservation stewards!
REQUEST FOR PROPOSAL:
STRATEGIC GROWTH CAMPAIGN
The Friends of Valle de Oro National Wildlife Refuge is seeking proposal submissions from fundraising consultants to
provide professional services for a strategic growth campaign positioning study and potential fundraising campaign.
We are seeking support for a fundraising campaign to support capital projects at Valle de Oro NWR as well as build
capacity for the sustainability of the Friends organization into the future.

The Friends hosted a conference call on July 12th, 2019 to gather questions and feedback on the request for proposals, as well as
collected additional questions through July 15th, 2019, which resulted in an amended version of the RFP. In this ammended RFP
(Version 2) we answered the questions we recieved and requests for clarification. This supplemental information can be found
under the narrative in each section of the RFP. Additionally, we have extended the proposal deadline to accomodate the one
business day delay in publishing Version 2 of the RFP.
Updated Proposal Deadline: July 30, 2019 - 5:00 pm
Check out copies of the Friends of Valle de Oro Golden Gazette Newsletters and news articles featuring the Friends of Valle de Oro NWR and the Refuge we all love and support!