Check out these announcements about unique opportunities to participate in the transformation of YOUR Urban Wildlife Refuge.
JOb Opening: Environmental Justice Coordinator
The U.S. Fish & Wildlife Service (USFWS), Valle de Oro National Wildlife Refuge (NWR), Los Jardines Institute (LJI), and the Friends of Valle de Oro National Wildlife Refuge (FVDO or Friends), collectively forming the Valle de Oro NWR Environmental Justice (EJ) Leadership Team, are hiring a program coordinator.
This new program coordinator will support the work of the EJ Leadership Team to grow an Environmental and Economic Justice Program for Valle de Oro National Wildlife Refuge guided by the Valle de Oro NWR Environmental and Economic Justice Strategic Plan (EEJSP). This is a part-time or sub-contractor position (based on the needs of the ideal candidate) that is funded by a grant from February 2021-September 2021. If additional funding is available or secured, there may be an opportunity to extend the position.
Interested applicants should send a cover letter and resume to aryn@friendsofvalledeoro.org with the subject line of "EJ Program Coordinator Application" by the deadline of 5:00 pm on Monday January 11th, 2021. To review more details on the position, including a job description CLICK HERE.
2020-2021 OPENING dOORS TO nATURE
eDUCATION sCHOLARSHIP
The Friends of Valle de Oro National Wildlife Refuge announces their Education Scholarship Award Program for the 2020-2021 school year. Under the Program, one Opening Doors to Nature Scholarship in the amount of $750 will be awarded to an undergraduate college student who is planning to pursue an environmentally focused career or is currently enrolled in an undergraduate conservation/environmental degree or certificate program.
Program Guidelines and Priorities:
Applicants must meet at least one of the following criteria in order to apply:
- Attended a New Mexico High School or College and are currently enrolled as an undergraduate in a (2)-year or (4)-year college or university in any location.
- Enrolled in or are planning to attend a two (2)-year community college or four (4)-year college or university within the state of New Mexico. Scholarship is available for Undergraduate students only.
Some preference will be given to applicants who have participated in a Valle de Oro National Wildlife Refuge or Friends of Valle de Oro NWR project, internship, or program, but this experience is not required.
Completed applications must be received by the Friends of Valle de Oro no later than 11:59 pm Sunday August 2, 2020. Late applications, or portions of applications, will not be accepted.
To Apply Online, Visit: http://bit.ly/FoVdOScholarshipApplication
To Download a Hard Copy of the Application, Visit: http://bit.ly/FoVdOEduScholarship
If you have any questions, please contact Aryn LaBrake at aryn@friendsofvalledeoro.org or 505-750-3383
coronavirus (COVID-19) Response
While there are many uncertainties surrounding the Coronavius outbreak (COVID-19), we are dedicated to the health and safety of our members, partners, supporters and employees of the Friends of Valle de Oro NWR and the Refuge we support. It is our goal to protect and maintain a healthy environment at Valle de Oro NWR, and in our surrounding community, for both wildlife and people.
We have taken action to abide by the orders from Governor Michelle Lujan Grisham and the NM Department of Health, including cancelling public gatherings, meetings and events from the end of March through at least April. We appreciate your flexibility as we continue to monitor this fluid situation and make determinations beyond April as we learn more.
At this point, Valle de Oro National Wildlife Refuge remains open to the public, and we encourage you to visit the Refuge as a way to get outside and maintain activity, while also practicing social distancing and in groups less than 5 individuals. The roads throughout the Refuge are wide enough to allow for passing other individuals at a safe 6-foot distance. Valle de Oro National Wildlife Refuge is an amazing green space for our community, and we are proud to have had a hand in protecting this space for the benefit of wildlife and people. We are glad that at this time, the property is still open, however, this status may change if mandates from the State evolve with this crises.
We will continue to keep you informed on the Refuge's status. Before your visit to the Refuge, be sure to check http://www.fws.gov/refuge/valle_de_oro/ for the most up to date information on the Refuge's status.
The livelihood of the Friends and its support of the Refuge and our collaborative programming is rooted in our community engagement and spring fundraising events. With the decision to postpone these events, we are in need of your support now more than ever. Please consider making a donation to the friends if your circumstances allow. Through increased individual donations during this tough time, we will be better able to support programs throughout, and after, the crises when we will all be craving time wiht our community in nature. Visit www/friendsofvalledeoro.org/donate to learn more about the impact of your donations and make an online donation. Or consider upgrading your annual membership to a livetime member, becoming a member for the first time, encourage friends and families to support the Friends, or renewing your membership early!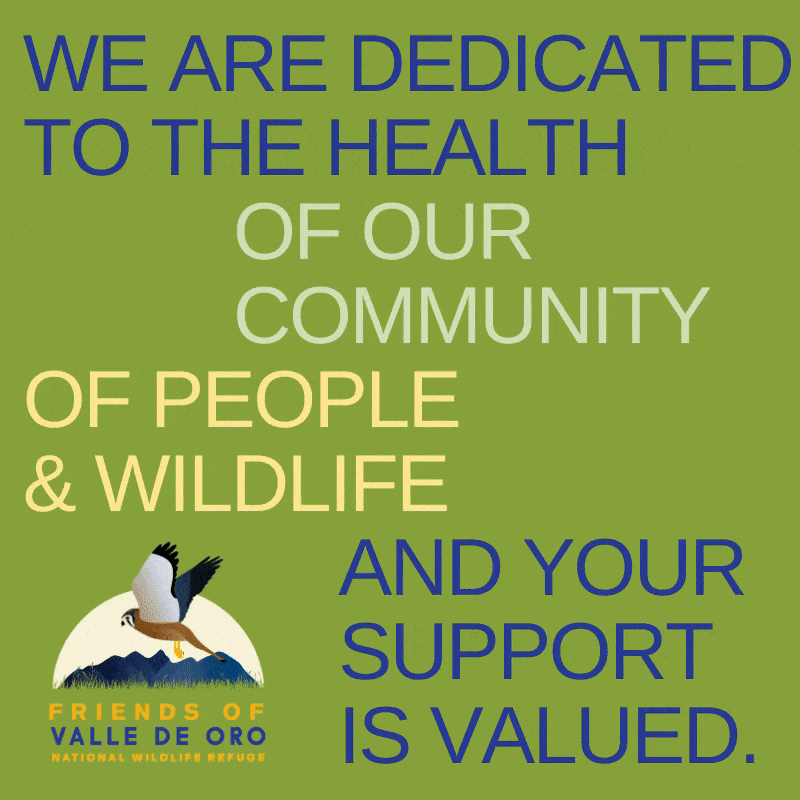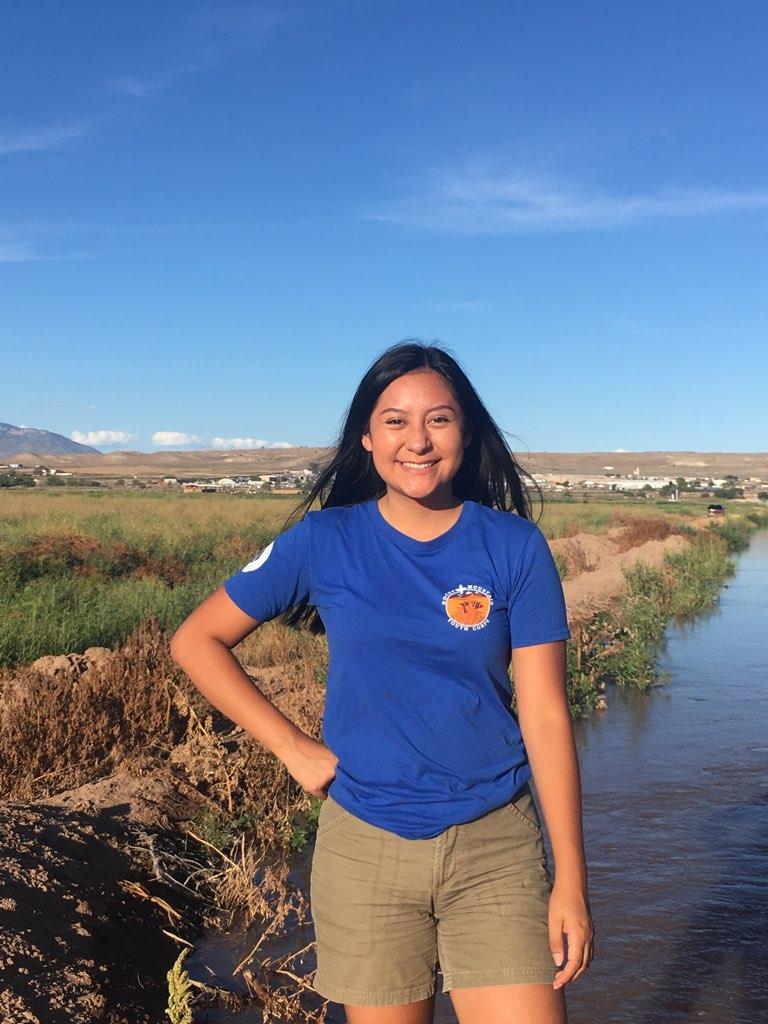 Announcing our Opening Doors to Nature Education Scholarship Winner!

We are so excited to announce, and introduce you to this year's Opening Doors to Nature Education Scholarship Recipient. Olivia Martinez began her conservation career early in her life as an elementary school student participating in BEMP (Bosque Ecosystem Monitoring Program) and then joining Rocky Mountain Youth Corps at the age of 16, first in tree and trail crews and then as a Youth Ambassador for Valle de Oro NWR in the 2018-2019 season. Olivia knew from a very early age that conservation was something she wanted to do for the rest of life, so she shaped her career goals around her passion for the environment. She is a freshman at Fort Lewis College in Durango, CO studying Environmental Science. As Olivia puts it, "I have chosen to study environmental science because of the variety the field has to offer. I could do lab research, field studies or data oriented work, allowing me to forever be amused. I also hope to use my knowledge of the Southwest to better Native American and Hispanic communities. As Native people we have a very strong connection to the land that surrounds us... I hope to be a catalyst for Native, Mestizo and Hispanic youth so they can understand the lands that surround them and work towards a healthier future for our indigenous lands."
Please join us in congratulating Olivia! For your change to meet Olivia, be a part of our official scholarship award ceremony, and to raise funds for next year's Opening Doors to Nature Education Scholarship, consider joining us at the Friends of Valle de Oro NWR's Golden Gala: Restoring Nature in our Backyards on Saturday, October 26th, where together we can make a difference in the lives of our future conservation stewards!
Check out copies of the Friends of Valle de Oro Golden Gazette Newsletters and news articles featuring the Friends of Valle de Oro NWR and the Refuge we all love and support!