Check out these announcements about unique opportunities to participate in the transformation of YOUR Urban Wildlife Refuge.

The Friends of Valle de Oro National Wildlife Refuge seeks a highly motivated and qualified leader to be its Executive Director. The successful candidate will be the principal public face of the Friends and be responsible for leadership, management, fundraising, and general administration of the Friends in partnership with the Board of Directors and the Refuge. For job description and further details about our organization, CLICK HERE.
Applications with a full resume and contact information for three professional references should be sent by email to work@friendsofvalledeoro.org, by July 23, 2021.
2021-2022 OPENING dOORS TO nATURE
eDUCATION sCHOLARSHIP
The Friends of Valle de Oro National Wildlife Refuge announces the Friends of Valle de Oro Scholarship Program for the 2021-2022 school year. Under the Program, the Friends will award two Opening Doors to Nature Scholarships: one in the amount of $750 and one in the amount of $500. These scholarships will be awarded to two undergraduate college students who are planning to pursue an environmentally focused career or are currently enrolled in an undergraduate conservation/environmental degree or certificate program.
Program Guidelines and Priorities:
Applicants must meet at least one of the following criteria in order to apply:
Attended a New Mexico High School or College and are currently enrolled as an undergraduate in a (2)-year or (4)-year college or university in any location.
Enrolled in or are planning to attend a two (2)-year community college or four (4)-year college or university within the state of New Mexico. Undergraduates only.
Some preference will be given to applicants who have participated in a Valle de Oro National Wildlife Refuge or Friends of Valle de Oro NWR project, internship, or program, but this experience is not required.
Completed applications must be received by the Friends of Valle de Oro no later than 11:59 pm Sunday August 1, 2021. Late applications, or portions of applications, will not be accepted.
To Apply Online, Visit: https://bit.ly/FoVdOScholarshipApplication2021
To Download the Application, Visit: https://bit.ly/OpeningDoorstoNatureApplication2021
If you have questions, please contact Joan Morrison at joan@friendsofvalledeoro.org or 860-209-2328
Friends of Valle de Oro NWR 2020 Annual Report
We are excited to share with you a recap of our 2020 activities and events, and all those who made our work possible! 
To access the Friends of Valle de Oro NWR 2020 Annual Report, CLICK HERE.
You can move through the different sections of the report, including committee updates, financial reports, member and donors lists, and more, using the tabs on the left of the website, or by clicking the "Menu" button at the top (especially important when viewing the report on your phone).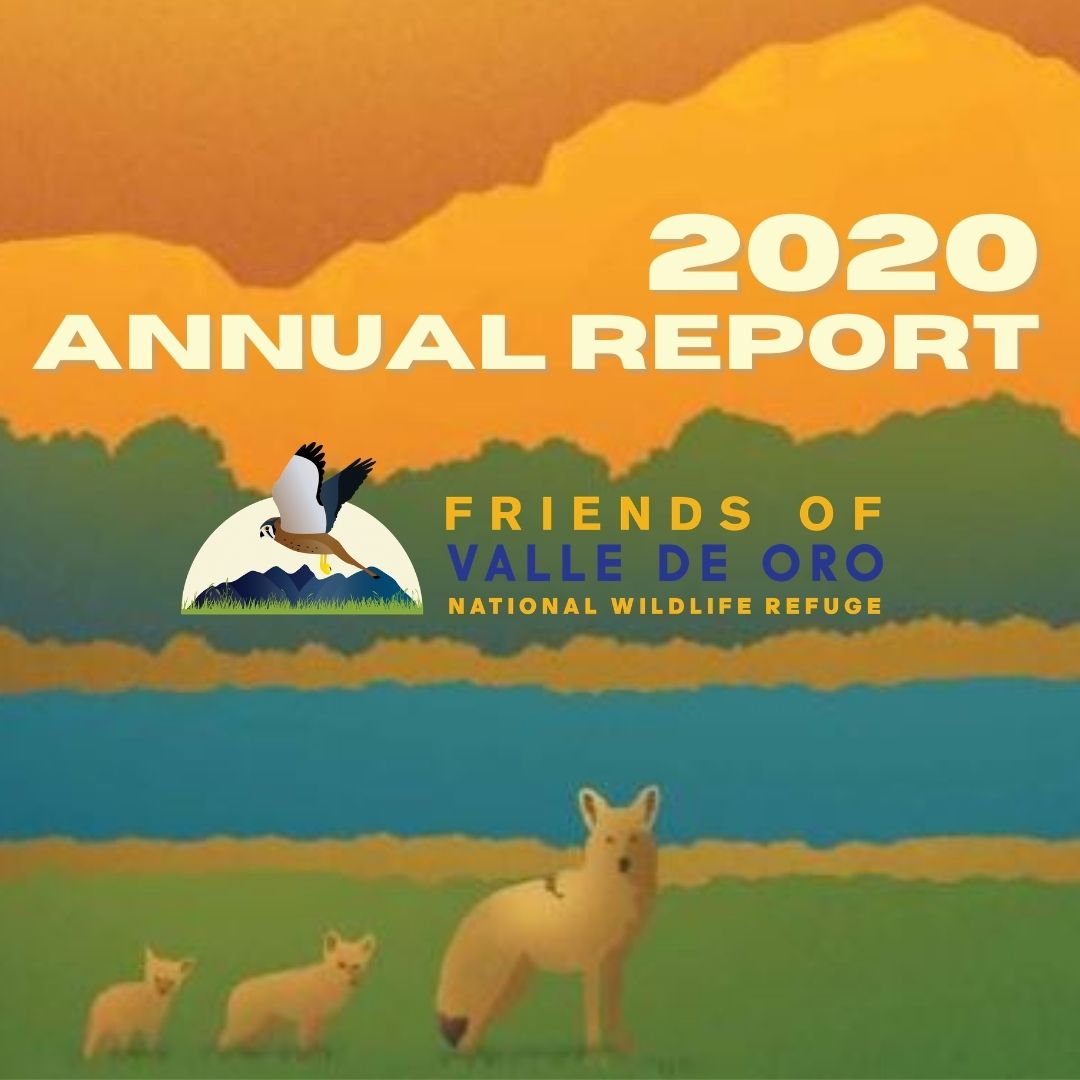 coronavirus (COVID-19) Response
While there are many uncertainties surrounding the Coronavius outbreak (COVID-19), we are dedicated to the health and safety of our members, partners, supporters and employees of the Friends of Valle de Oro NWR and the Refuge we support. It is our goal to protect and maintain a healthy environment at Valle de Oro NWR, and in our surrounding community, for both wildlife and people.
We have taken action to abide by the orders from Governor Michelle Lujan Grisham and the NM Department of Health, including cancelling public gatherings, meetings and events from the end of March through at least April. We appreciate your flexibility as we continue to monitor this fluid situation and make determinations beyond April as we learn more.
At this point, Valle de Oro National Wildlife Refuge remains open to the public, and we encourage you to visit the Refuge as a way to get outside and maintain activity, while also practicing social distancing and in groups less than 5 individuals. The roads throughout the Refuge are wide enough to allow for passing other individuals at a safe 6-foot distance. Valle de Oro National Wildlife Refuge is an amazing green space for our community, and we are proud to have had a hand in protecting this space for the benefit of wildlife and people. We are glad that at this time, the property is still open, however, this status may change if mandates from the State evolve with this crises.
We will continue to keep you informed on the Refuge's status. Before your visit to the Refuge, be sure to check http://www.fws.gov/refuge/valle_de_oro/ for the most up to date information on the Refuge's status.
The livelihood of the Friends and its support of the Refuge and our collaborative programming is rooted in our community engagement and spring fundraising events. With the decision to postpone these events, we are in need of your support now more than ever. Please consider making a donation to the friends if your circumstances allow. Through increased individual donations during this tough time, we will be better able to support programs throughout, and after, the crises when we will all be craving time wiht our community in nature. Visit www/friendsofvalledeoro.org/donate to learn more about the impact of your donations and make an online donation. Or consider upgrading your annual membership to a livetime member, becoming a member for the first time, encourage friends and families to support the Friends, or renewing your membership early!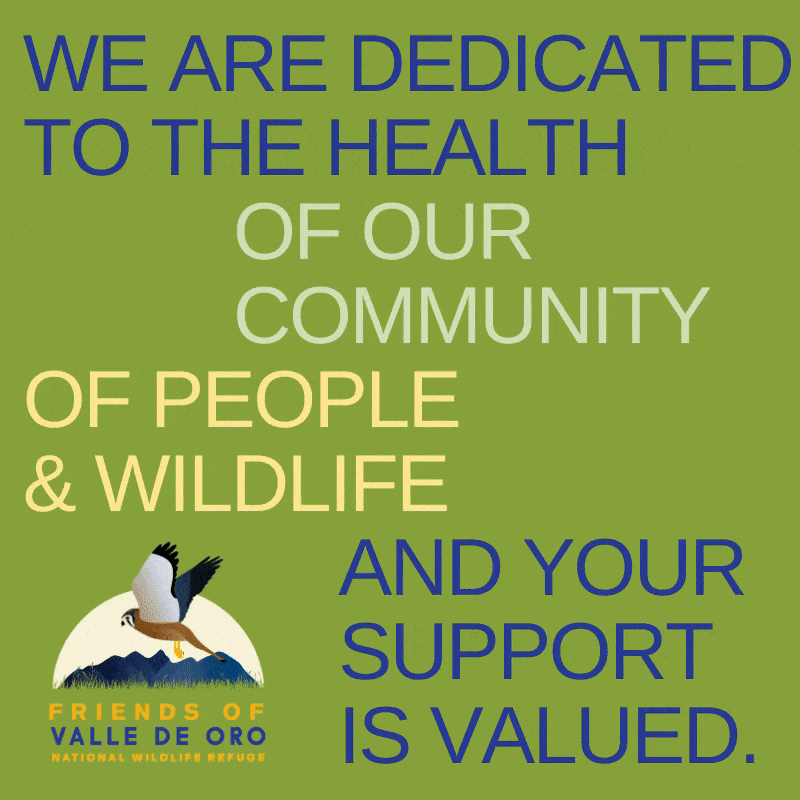 Check out copies of the Friends of Valle de Oro Golden Gazette Newsletters and news articles featuring the Friends of Valle de Oro NWR and the Refuge we all love and support!