VIRTUAL Art Along the Rio Grande Art Fair – RECAP
Recapping the Virtual Art Along the Rio Grande Art Fair
Below is a recap of our Virtual Art Along the Rio Grande Art Fair, in case you missed it in real time this year.  You will find information about our virtual event this year and all of the Artists we highlighted.  We hope you will consider visiting their websites, social media pages, and getting in touch with them to purchase their artwork! Also check out this video interview on KRQE for more details on the impact of this Art Fair Fundraiser for the Friends of Valle de Oro National Wildlife Refuge and the Hubbell House Alliance.
If you have any questions about the Virtual Event or information below, you can email us at artfair@friendsofvalledeoro.org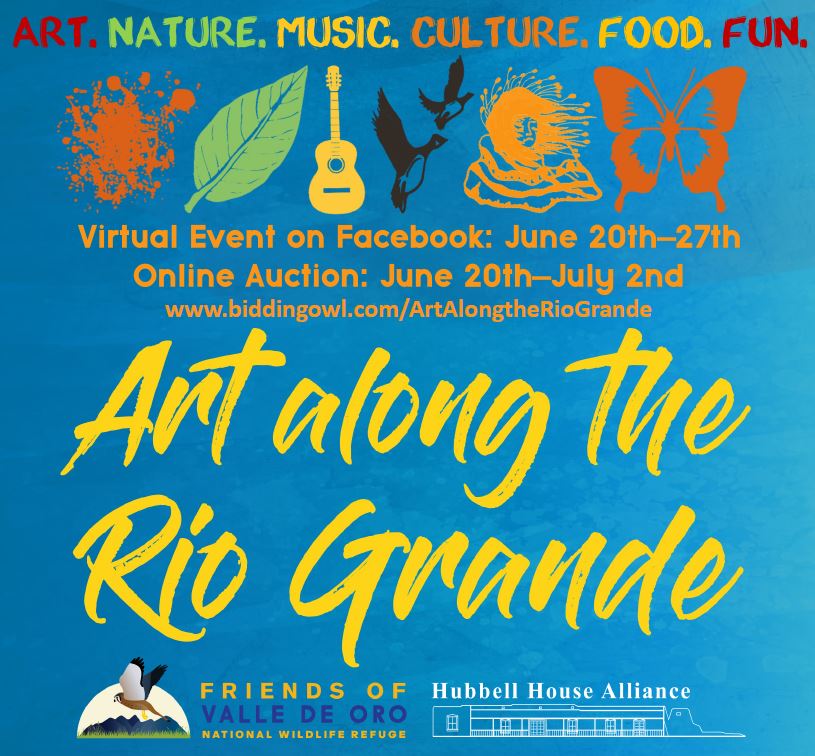 Art Along the Rio Grande was slated for its fourth year this April. The event has quickly become a South Valley spring tradition, bringing together residents of the Valley and from throughout the Albuquerque metro area to stroll the grounds of the historic Gutiérrez Hubbell House and browse and buy art from local vendors to benefit two local organizations which support local public lands including: Valle de Oro National Wildlife Refuge and Gutiérrez Hubbell House.
The global coronavirus pandemic led first to rescheduling and then cancellation of the April 2020 event, leaving organizers, artists, and community members disappointed. Dave Barber, Friends of Valle de Oro NWF President and planning committee member noted, "Our members and neighbors look forward to getting together, enjoying the beautiful South Valley spring, and supporting two of the places that help our community thrive. In times like this, we need those connections more than ever." The Friends of Valle de Oro NWR and Hubbell House Alliance sought a way to maintain community connections in a virtual space. Demetria Gutierrez, a member of the planning committee representing the Hubbell House Alliance said, "We wanted to celebrate the amazing community of artists that has grown out of the past three years of the Art Along the Rio Grande art fair. Because we can't be together in person this year, we decided to set aside the week of June 20-27 to highlight the amazing artists who make this event so fabulous."
So we opted to host an online event, sharing the work of some of the artists who planned to participate in the event, in tandem with an online auction of selected artwork. We are excited about this new way of sharing their love of art and providing a way for the community to support their work. Gutierrez said, "The Art Along the Rio Grande art fair is an important fundraiser for our organizations and helps support our programs and access to wildlife, art, history, recreation, and culture to the South Valley. We're grateful to the artists who were able to contribute items to help us make up for some of the lost revenue of this annual event." Barber added, "The pandemic brought many unexpected changes to our lives and work and will surely continue to do so. We are fortunate to work with the support of a community of artists, nature-lovers, storytellers, and all the other beautiful facets of our shared community. Let's come together virtually to share and build our community from home, until we can be together in person."
___________________________________________
Bean Street Studio:
Bean Street Studio is a Certified New Mexico True fiber art and jewelry design studio inspired by nature, memories, and frankly- whatever they like. According to Bean Street Studio, art should make you feel happy, warm, and inspired! The Bean Street Studio artists are new editions to the Art Along the Rio Grande Art Fair, and we are so excited to promote their bead woven jewelry and macrame pods!
Bean Street Studio generously donated a beautiful pair of earrings called "Sunrise" for the Art Along the Rio Grande Online Auction!
You can learn more about Bean Street Studio and purchase their artwork through their online store by visiting: https://www.beanstreetstudio.com/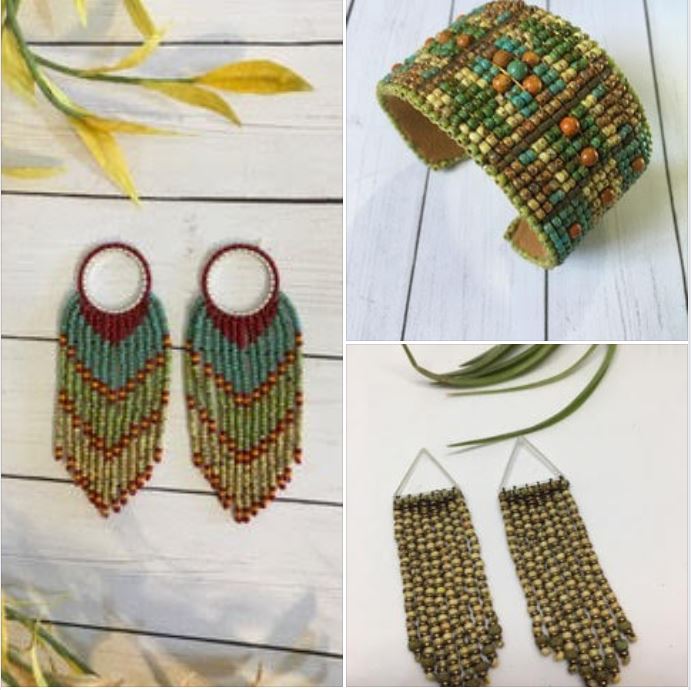 ___________________________________________
Wren Dreams:
LWren Walraven of Wren Dreams has been creating art for over 20 years. While her work and style continues to evolve, she remains inspired by wildlife and nature which feature prominently in her pieces. Her creations include mixed media, oil and acrylic based paintings.
LWren helped plan the first ever Art Along the Rio Grande, and we have been delighted to have her presence at the event every year for the past 3 years, and into a virtual 4th year.
Take a minute to learn more about this local artist and see her beautiful work at www.wrendreams.com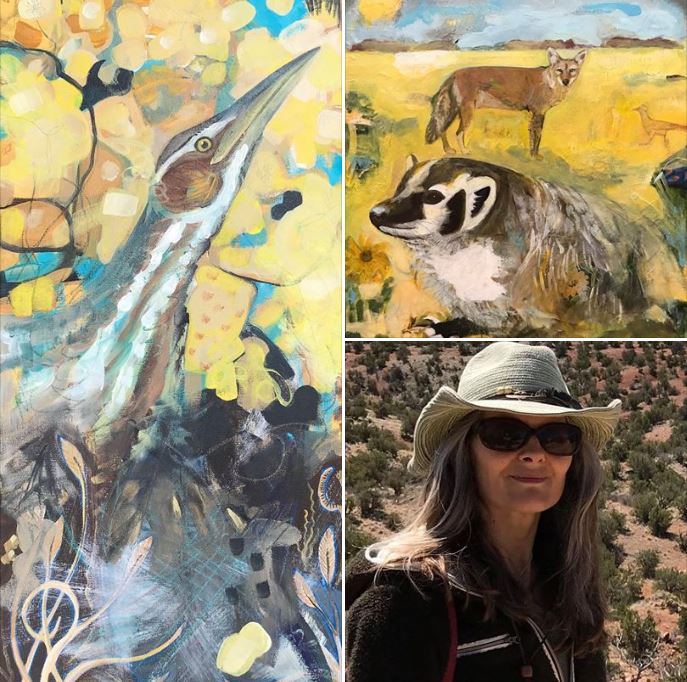 ___________________________________________
One Seed Design:
Artist Sarah Wallace is an Albuquerque based jewelry designer and silversmith. Her handcrafted silver and stone pieces are inspired by the varying landscapes and natural beauty of New Mexico.
Her studio, One Seed Design is new to the Art Along the Rio Grande Art Fair, but we are so excited to promote her beautiful jewelry, especially because she is donating 15% of proceeds from her online Etsy store to Outdoor Afro, an amazing organization that promotes equity and opportunity in open spaces and conservation, and an important partner of Valle de Oro National Wildlife Refuge!
Check out One Seed Design's Instagram page to view more photos of her beautiful jewelry: www.instagram.com/one_seed_designs
And be sure to visit their Etsy page to support both Sarah and Outdoor Afro this summer: https://www.etsy.com/shop/osdjewelry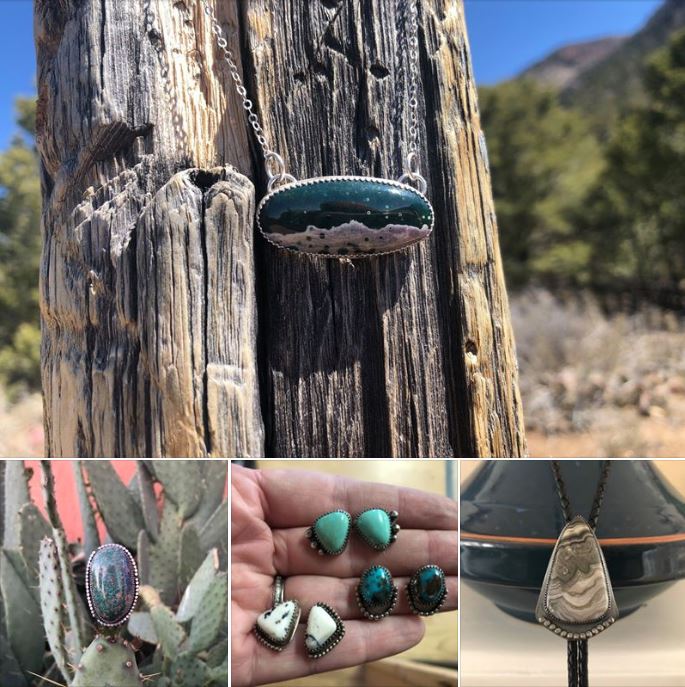 ___________________________________________
Alumenart by Tambrian:
Brian Webb and John Newell of Alumenart by Tambrian began their careers making belt buckles in junior high school in the 1970's. After a few years of working for others, they began working together again and have been creating beautiful jewelry, home decor accessories, and yard art for over 35 years. Their simple but elegant designs feature stylized southwestern and geometric motifs.
Alumenart by Tambrian generously donated a fantastic Lizard Sculpture for the Art Along the Rio Grande Online Auction.
To find more amazing jewelry, home decor accessories, and yard art crafted from aluminum, pewter, and steel, visit the Alumenart Gallery, located at 7200 Fourth Street, NW, is open on a limited basis M – F, 9 a.m. – 4 p.m. Call 505.897.9967 for someone to come help you.
Or, find them online https://www.etsy.com/shop/AlumenartbyTambrian
New Mexico True Certified (#nmntrue)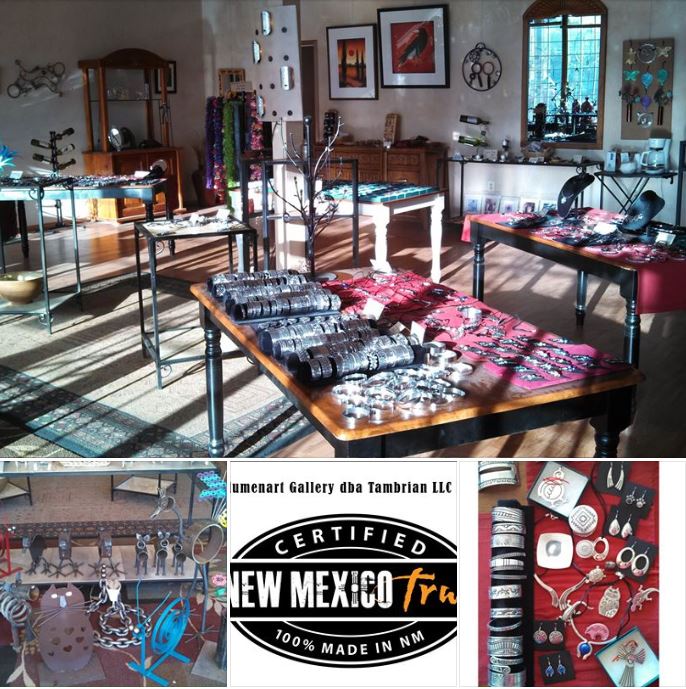 ___________________________________________
Bate Bate Chocolate:
Chocolate lovers of Albuquerque and beyond, take some time to go check out Bate Bate Chocolate by Belen Romero!
Belen Romero, a painter turned chocolate maker, finds ways to infuse her love of art into her handmade confections. Specializing in craft, bean-to-bar chocolate, she makes each micro batch using single origin beans from social, ecological, and economically sustainable supply chains.
She puts love and intention into her craft and hopes to continue to build community and unite people through food!
This is Belen's 3rd year in joining us at the Art Along the Rio Grande Art Fair, and we are so happy to have her back.
Visit batebatechocolate.com to try some today!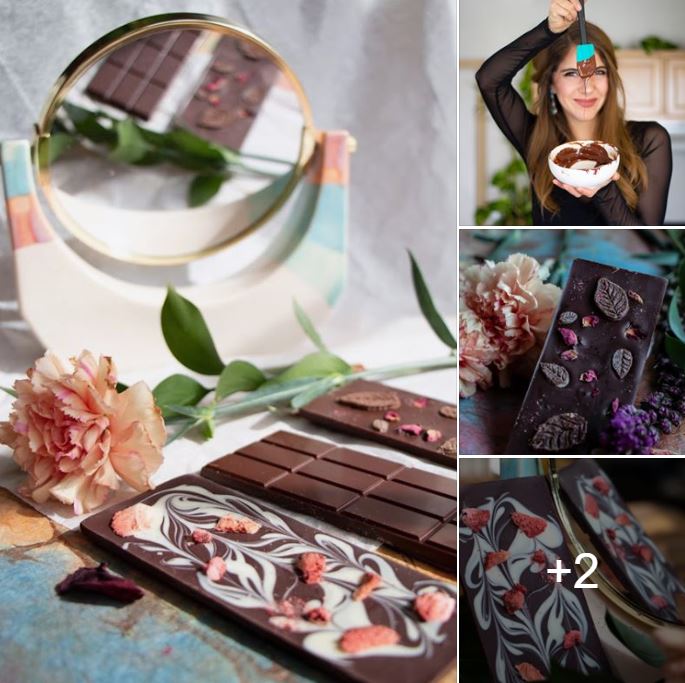 ___________________________________________
Fired Up Glass:
Artist Anita Ortiz, and her business Fired Up Glass are a new addition to the annual Art Along the Rio Grande Art Fair, but we love her fused glass pieces! Check out that bird wind-chime!
She creates one of a kind, fused glass pendants, earrings, pins, crosses, structural folk art, nightlights, ornaments, nativities, wall and yard art. Some jewelry pieces are hand etched for added depth and visual interest. Each piece is uniquely hand crafted by her, fired, cold worked then re-fired as necessary. She endeavors to create pieces which integrate a variety of mediums and celebrate the cultural diversity of the southwest and the great State of New Mexico.
If you are interested in purchasing from Fired up Glass, feel free to email Anita at aortiz44.60@gmail.com!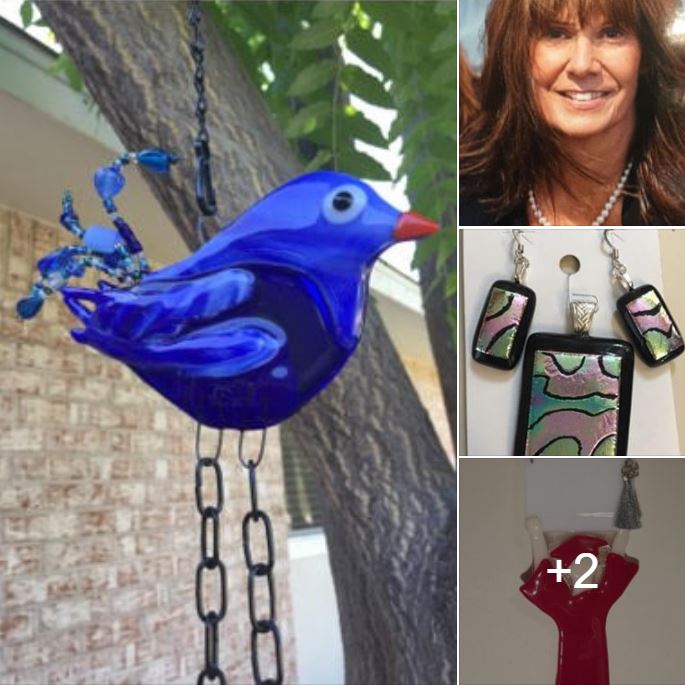 ___________________________________________
Artist Kathy Kocon:
Kathy Kocon's work shows the craft and art of a lifelong love of using a needle and thread. She designs and creates fabric Raven dolls, who wear hand sewn, and hand embroidered jackets. She has been making and selling dolls for more than 30 years. She says her work is inspired by her love for the isolated natural world of the desert southwest USA. We welcome Kathy in her first year participating in our Art Along the Rio Grande Art Fair! You can visit her website at www.kathykocon.com, and on Instagram at kathykoconabq.
Kathy also contributed one of her beautiful raven dolls to our Online Auction.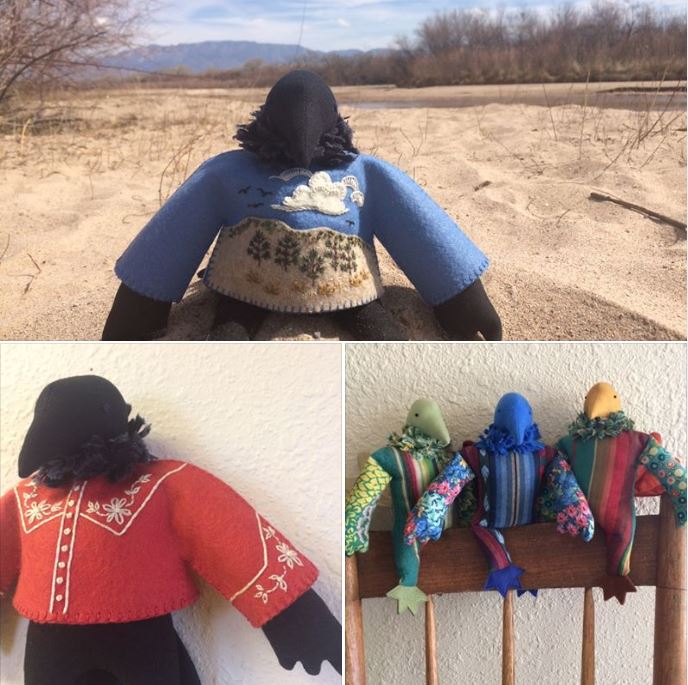 ___________________________________________
Renewed Designs NM:
Renewed Designs NM creates up-cycled aluminum and tin can creations all inspired by nature.
This is the 3rd Art Along the Rio Grande Art Fair for Susan Sanchez! Thank you for your continued support!
Keep up with Susan's fantastic work on her page: Renewed Designs NM.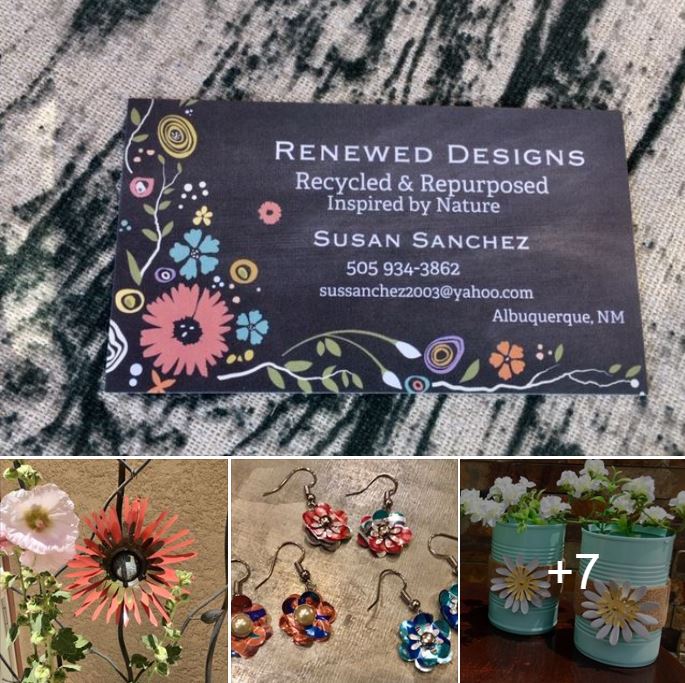 ___________________________________________
Katy Widger Fine Art:
For our last, but certainly not least, featured artist, we are so excited to feature Katy Widger Fine Art! Katy is an award-winning animal artist whose primary focus in on canines, birds and wildlife. A native New Mexican, she was raised in Corrales, north of Albuquerque. She currently lives in Edgewood with her husband, four devoted dogs and two opinionated parrots. You can check out her artwork on her Facebook Page or her website, https://fineartamerica.com/profiles/katy-widger
"As an artist, I paint that which I love. My heart belongs in the animal kingdom! It is a great privilege to paint the various animals that come into my life, striving to capture their true essence on my canvas. I find no greater joy than to stand at my easel with another new critter painting taking on life under my brush."
According Wesley Pulkka, Art Critic, Albuquerque Journal, "Katy Widger is a talented and thoughtful artist who weaves mythology and meaning into her nature-inspired creations. Her work speaks about the natural world in a high-spirited poetic language."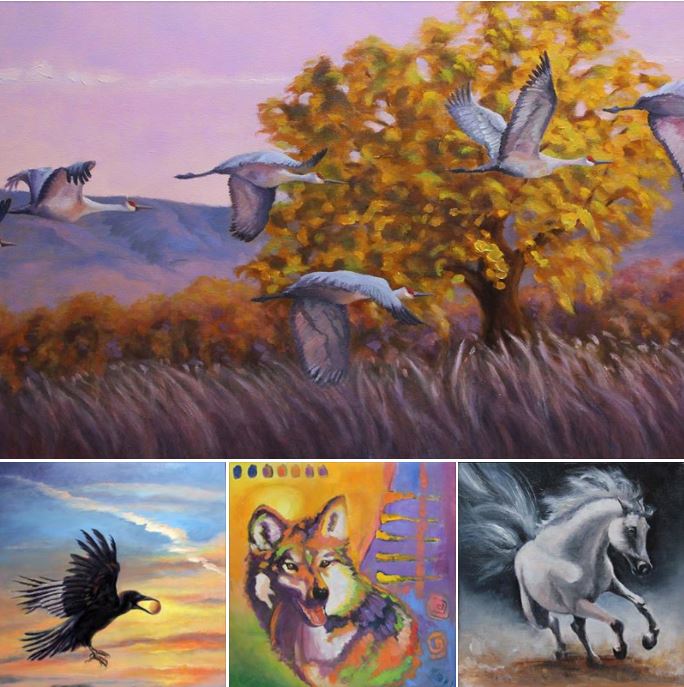 ___________________________________________